Kraków - The Capital of Polish Memory (the bodies are sleeping, the souls are watching)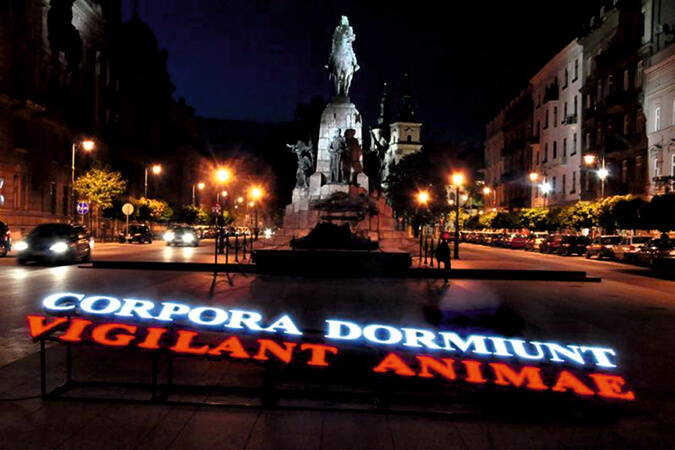 34.kraków-stolica... b fot. Weronika Szmuc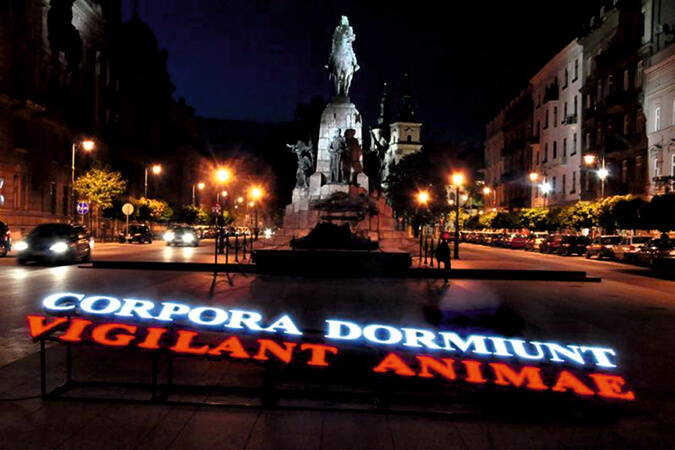 title:
latin:

Kraków - The Capital of Polish Memory
Corpora dormiunt vigilant animae
the bodies are sleeping, the souls are watching


year:
2012
dimensions:
500/100/75 cm
technique:
spatial object, steel, plexiglass,
LED diodes, electrical installation
description:
The project consisted in placing contemporary light advertising similar to those in the public space, which can be seen on the facades of metropolitan shopping centers. The  advertising is the Latin sentence Corpora dormiunt vigilant animae (bodies are sleeping, souls are watching) possessing a huge symbolic political and national chargé.

In 2010, a plaque commemorating the victims of the plane crash near Smolensk was installed in the Crypt under the Tower of Silver Bells on the Wawel Hill. The headline of the board contains the same Latin sentence.

It can also be read on the canopy located above the exit from the royal graves. The plinth, on which the canopy rests, was made of the melted monument of Otto von Bismarck in Poznań. Columns, made of jade, come from the Council of Saint. Alexander Nevsky, who was on the Saski Square in Warsaw, and capitals and bases of columns were cast from Austrian cannons.

The inscription in the form of a light advertising has been divided into two parts - in white and red referring to the national flag. In this case - white referred to death, while red was to vigil, living historical memory.

The place of the exhibition's exposition - the Matejko Square advertisement - is symbolic space, marked by the presence of two historical monuments - the Grunwald Monument and the Tomb of the Unknown Soldier.

The proposed object in the form of advertising refers  to advertising  in critical way or over-hyping the national memory.